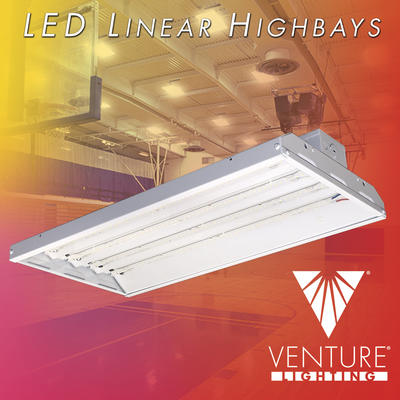 New DLC Premium LED Linear Highbay Luminaires By Venture Lighting
Venture Lighting Announces New Linear Highbay Luminaires
Cleveland, Ohio (September 11, 2019) - Venture Lighting International, Inc. proudly announces the introduction of a new family of LED linear highbay luminaires. Venture Lighting's new line of energy-efficient and affordable linear models extends the range of high-performance LED luminaires and provides the professional lighting market with more lumen packages and solution alternatives.
Venture Lighting's new line includes a 110W, 162W, and 223W highbays which deliver from 14,000 to 30,105 lumens and lumens-per-watt of up to 137. Available with standard 0-10 volt dimming, the products' new easy-attach sensor facilitates daylighting and motion control integration. All of Venture Lighting's new linear highbays come with chain, V-hooks and a junction box with knock-outs for easy installation.
"We're excited to announce a number of new products that compliment the rest of our LED luminaries. It's our focus to offer lighting solutions that are a value to the market while being as flexible as our customers need us to be. These linear highbays have an improved performance over previous generation models so they fit right into the rest of Venture's product offering," says Ajay Naruka, Global Vice President of Product.
Available in 110W, 162W and 223W
Correlated Color Temperatures (CCT) options of 4000K and 5000K, both with 80 CRI
Multiple factory installed options, such as motion sensors and battery back-ups
Energy efficient: up to 137 lumens per Watt; DLC Premium
For high resolution images of Venture Lighting linear strip luminaires, go to:
http://hid.venturelighting.com/PR/VentureLighting_...
http://hid.venturelighting.com/PR/VentureLighting_...
About Venture Lighting:
Venture Lighting is an industry leading designer, asset light manufacturer and marketer of energy efficient LED luminaires, systems, controls and services while continuing to offer its world leading HID lamps. Headquartered in Northeast Ohio where complete lighting systems are assembled, Venture strives to offer its customers world-wide the best lighting solutions and superior service and support. Visit VentureLighting.com to find out more about Venture and its line of LED lighting solutions. Follow them on Facebook, Twitter, LinkedIn, and Instagram.