Cascade Recessed Canopy
Low maintenance LED Recessed Canopy Lights. Ideal for applications with restricted access.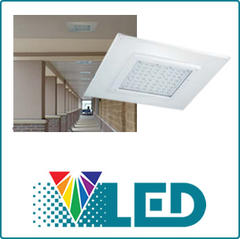 LED Recessed Canopy Lights from Venture Lighting are the ideal solution for retail canopies, walkways, drive-thrus and other locations where heavy pedestrian traffic makes maintenance difficult. These luminaires feature a robust, lightweight design coupled with universal mounting. They are exceptionally easy to handle & install making them a wise choice, both for new build and retrofit applications.
| Watts | Order Code | DLC Model# | Initial Lumens | CCT | CRI | Replace HID Wattage | Data Sheet | IES File | Lighting Design Tool |
| --- | --- | --- | --- | --- | --- | --- | --- | --- | --- |
| 23W | CP47526 | CPC-03N-25NDA-xxAC01 | 2670 | 4000K | 70 | 70W | | | |
| 23W | CP82401 | CPC-03C-25NDA-xxAC01 | 2670 | 5000K | 70+ | 70W | | | |
| 41W | CP43127 | CPC-03N-45NDA-xxAC01 | 4810 | 4000K | 70 | 100W | | | |
| 41W | CP92745 | CPC-03C-45NDA-xxAC01 | 4800 | 5000K | 70+ | 100W | | | |
| 54W | CP74135 | CPC-03N-60NDA-xxAC01 | 6580 | 4000K | 70 | 175W | | | |
| 54W | CP48715 | CPC-03C-60NDA-xxAC01 | 6470 | 5000K | 70+ | 175W | | | |
| 72W | CP62528 | CPC-03N-80NDA-xxAC01 | 8940 | 4000K | 70 | 250W | | | |
| 72W | CP36619 | CPC-03C-80NDA-xxAC01 | 9000 | 5000K | 70+ | 250W | | | |