Environ - LED Area Lights
Low maintenance Area Lighting Fixtures from Venture Lighting.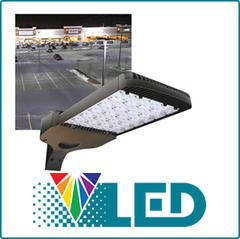 Environ LED area lighting fixtures are low profile, low maintenance and feature long life. Perfect for new construction and easy replacement of existing area lighting fixtures. The robust design paired with a variety of mounting options makes them ideal for area/site, roadway, and security applications.
Fixtures are available in a range of photometric distributions, voltages, with and without motion sensor
Environ - LED Area Lights, 120-277V
Add suffix "-M12" to order code for a factory installed fixture with a Motion/Dim/Photocell Sensor
| Watts | Order Code | DLC Model# | Initial Lumens | CCT | CRI | Replace HID Wattage | Distribution | IES File | Lighting Design Tool |
| --- | --- | --- | --- | --- | --- | --- | --- | --- | --- |
| 120W | ENV-120CT2-ABZ | ENV-120CT2-A | 13560 | 5000K | 70+ | 175W V, 250W H | Type 2 | | |
| 120W | ENV-120CT3-ABZ | ENV-120CT3-A | 13560 | 5000K | 70+ | 175W V, 250W H | Type 3 | | |
| 120W | ENV-120CT4-ABZ | ENV-120CT4-A | 13650 | 5000K | 70+ | 175W V, 250W H | Type 4 | | |
| 120W | ENV-120CT5-ABZ | ENV-120CT5-A | 13560 | 5000K | 70+ | 175W V, 250W H | Type 5 | | |
| 150W | ENV-150CT2-ABZ | ENV-150CT2-A | 18240 | 5000K | 70+ | 250W V, 400W H | Type 2 | | |
| 150W | ENV-150CT3-ABZ | ENV-150CT3-A | 18240 | 5000K | 70+ | 250W V, 400W H | Type 3 | | |
| 150W | ENV-150CT4-ABZ | ENV-150CT4-A | 18240 | 5000K | 70+ | 250W V, 400W H | Type 4 | | |
| 150W | ENV-150CT5-ABZ | ENV-150CT5-A | 18240 | 5000K | 70+ | 250W V, 400W H | Type 5 | | |
| 200W | ENV-200CT2-ABZ | ENV-200CT2-A | 25690 | 5000K | 70+ | 400W V, 1000W H | Type 2 | | |
| 200W | ENV-200CT3-ABZ | ENV-200CT3-A | 25690 | 5000K | 70+ | 400W V, 1000W H | Type 3 | | |
| 200W | ENV-200CT4-ABZ | ENV-200CT4-A | 25690 | 5000K | 70+ | 400W V, 1000W H | Type 4 | | |
| 200W | ENV-200CT5-ABZ | ENV-200CT5-A | 25690 | 5000K | 70+ | 400W V, 1000W H | Type 5 | | |
| 380W | ENV-380CT3-ABZ | ENV-380CT3-A | 43270 | 5000K | 70+ | 1000W V, 1000W H | Type 3 | | |
| 380W | ENV-380CT4-ABZ | ENV-380CT4-A | 41710 | 5000K | 70+ | 1000W V, 1000W H | Type 4 | | |
| 380W | ENV-380CT5W-ABZ | ENV-380CT5W-A | 42660 | 5000K | 70+ | 1000W V, 1000W H | Type 5 Wide | | |
| 480W | ENV-480CT3-ABZ | ENV-480CT3-A | 55000 | 5000K | 70+ | 1000W V, 1000W H | Type 3 | | |
| 480W | ENV-480CT4-ABZ | ENV-480CT4-A | 53000 | 5000K | 70+ | 1000W V, 1000W H | Type 4 | | |
| 480W | ENV-480CT5W-ABZ | ENV-480CT5W-A | 54260 | 5000K | 70+ | 1000W V, 1000W H | Type 5 Wide | | |
Environ - LED Area Lights, 347-480V
Add suffix "-M34" to order code for a factory installed fixture with a Motion/Dim/Photocell Sensor
| Watts | Order Code | DLC Model# | Initial Lumens | CCT | CRI | Replace HID Wattage | Distribution | IES File | Lighting Design Tool |
| --- | --- | --- | --- | --- | --- | --- | --- | --- | --- |
| 120W | ENV-120CT2-BBZ | ENV-120CT2-B | 13560 | 5000K | 70+ | 175W V, 250W H | Type 2 | | |
| 120W | ENV-120CT3-BBZ | ENV-120CT3-B | 13560 | 5000K | 70+ | 175W V, 250W H | Type 3 | | |
| 120W | ENV-120CT4-BBZ | ENV-120CT4-B | 13560 | 5000K | 70+ | 175W V, 250W H | Type 4 | | |
| 120W | ENV-120CT5-BBZ | ENV-120CT5-B | 13560 | 5000K | 70+ | 175W V, 250W H | Type 5 | | |
| 150W | ENV-150CT2-BBZ | ENV-150CT2-B | 18240 | 5000K | 70+ | 250W V, 400W H | Type 2 | | |
| 150W | ENV-150CT3-BBZ | ENV-150CT3-B | 18240 | 5000K | 70+ | 250W V, 400W H | Type 3 | | |
| 150W | ENV-150CT4-BBZ | ENV-150CT4-B | 18240 | 5000K | 70+ | 250W V, 400W H | Type 4 | | |
| 150W | ENV-150CT5-BBZ | ENV-150CT5-B | 18240 | 5000K | 70+ | 250W V, 400W H | Type 5 | | |
| 200W | ENV-200CT2-BBZ | ENV-200CT2-B | 25690 | 5000K | 70+ | 400W V, 1000W H | Type 2 | | |
| 200W | ENV-200CT3-BBZ | ENV-200CT3-B | 25690 | 5000K | 70+ | 400W V, 1000W H | Type 3 | | |
| 200W | ENV-200CT4-BBZ | ENV-200CT4-B | 25690 | 5000K | 70+ | 400W V, 1000W H | Type 4 | | |
| 200W | ENV-200CT5-BBZ | ENV-200CT5-B | 25690 | 5000K | 70+ | 400W V, 1000W H | Type 5 | | |
| 380W | ENV-380CT3-BBZ | ENV-380CT3-B | 43270 | 5000K | 70+ | 1000W V, 1000W H | Type 3 | | |
| 380W | ENV-380CT4-BBZ | ENV-380CT4-B | 41710 | 5000K | 70+ | 1000W V, 1000W H | Type 4 | | |
| 380W | ENV-380CT5W-BBZ | ENV-380CT5W-B | 42660 | 5000K | 70+ | 1000W V, 1000W H | Type 5 Wide | | |
| 480W | ENV-480CT3-BBZ | ENV-480CT3-B | 55000 | 5000K | 70+ | 1000W V, 1000W H | Type 3 | | |
| 480W | ENV-480CT4-BBZ | ENV-480CT4-B | 53000 | 5000K | 70+ | 1000W V, 1000W H | Type 4 | | |
| 480W | ENV-480CT5W-BBZ | ENV-480CT5W-B | 54260 | 5000K | 70+ | 1000W V, 1000W H | Type 5 Wide | | |